The Garmin Rino 650 GPS combines a
5-Watt FRS/GMRS radio
with a
color touchscreen GPS
, allowing you to communicate over ranges up to
20 miles
. Other features include:
Barometric altimeter and electronic compass
Expandable memory for adding detailed maps on pre-loaded microSD cards
NOAA weather radio with Specific Area Message Encoding, allowing you to see National Weather Service warnings and watches on the map screen
Compatibility with Garmin's BirdsEye satellite imagery and user-created custom maps
Keep reading to see all the
features
of the Rino 650 GPS, find out what
activities
it can be used for, and what sport-specific
accessories
you can get for it.
GPS with FRS/GMRS
The Rino is the
only
place you'll find the combination of a GPS and FRS/GMRS with such a wide variety of capabilities. For those not familiar with 2-way radios, the FRS or
"Family Radio Service"
system is for shorter-range transmitting and does not require a license, while the GMRS or
General Mobile Radio Service
is for longer-range transmissions and does require a license. With the FRS/GMRS combination in the Rino 650, licensed users will have 22 channels on which to communicate over distances of up to
20 miles
, while non-licensed users will be able to communicate over 14 channels (in .5 watt mode) over distances up to
2 miles
.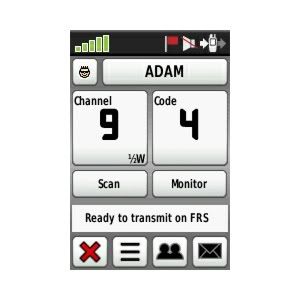 The Rino 650 is ideal for search and rescue teams, hunters, guides, or anyone who needs to be able to communicate in the backcountry. The addition of a NOAA weather radio makes it even more useful for those whose duties require them to be outside in
all
weather conditions.
What features does the Garmin Rino 650 GPS have?
The Garmin Rino 650 GPS has the following features (click on the feature to view more details in a separate browser window):
Color screen
,
high-sensitive reciever
,
waterproof
,
electronic compass
,
barometric altimeter
,
detailed topo maps available
,
expandable memory
,
turn-by-turn directions
,
displays satellite imagery
,
communication
,
custom maps
,
Touch Screen
What activites can I use the Garmin Rino 650 GPS for?
Click on each activity to view more details in a separate browser window.
What else do I need to know about the Garmin Rino 650?
Once you've loaded detailed maps, the Rino 650 will give you turn-by-turn driving directions (no voice commands), allowing you to navigate over local roads on your way to the trailhead. With the vehicle power cable, you can charge the lithium ion battery pack while en-route to your destination.
What accessories are available with the Garmin Rino 650 GPS?
Auto Friction Mount
Marine Mount
Bicycle Mount
Vehicle Power Cable
Carabiner Clip
Belt Clip
Still have questions about the Garmin Rino 650 GPS? You can see how it compares to other GPS units by checking out the
best handheld gps buyer's guide
on the internet, or just
contact us
with your questions. We always love talking about GPS!